About Brady Sparks
Mr. Sparks has worked on matters as broad as his geographic ramblings, including technology disputes, pipeline disasters, inter-state check-kiting schemes, legal, medical, engineering and accounting malpractice, all sorts of business and commercial fraud, banking, hedge funds, bond funds, fractionalized interests in oil and gas drilling projects, a professional medical association's anti-trust attack on a member, not to mention bad wrecks, bad spouses, bad fires, bad loans, bad oil, bad walls, dogs, bad partners, and all around bad deals, as well as employment disputes, non-competition agreements, anti-compete clauses, stock fights, partnership dissolutions, wrongful terminations, marketing, trade secrets, battles over customer lists, intellectual property, oil and gas, and a host of others.
Mr. Sparks regularly works both sides of the aisle, having had occasion to serve as shadow counsel for major downtown firms. He been appointed by over a dozen judges as a mediator, and has mediated approximately 500 cases, with a success rate of over 93 percent. He has been admitted to practice in the Second, Fourth, Fifth, Sixth and Tenth U.S. Courts of Appeals. In 2010, he found himself on the cover of the Texas Lawyer for winning the reversal in the U.S. Fifth Circuit of a federal judge's wrongful vacation (reversal) of an arbitration award.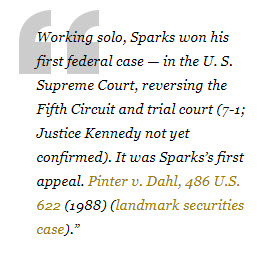 It's fair to say Sparks has been to more than a few rodeos, but he practices now for the same reason he became a lawyer back in 1974: he loves to help people solve tough problems and negotiate fair deals, inside or outside the courtroom.
On the personal side, Mr. Sparks's competitive and sports-oriented leanings have been softened to a degree by knee and hip-replacement surgeries.  For 25 years you could find him running around White Rock Lake (10 miles) every Saturday.  He has run 6 marathons, including Boston (P.R. 3:18), is a Masters Swimmer, a triathlete (pre-surgery), and has pursued Crossfit and Camp Gladiator along with Christie, his beautiful and forgiving wife. More complacent now, Sparks still works out several times a week and tries to find time to go fly-fishing and hack his way around the golf course.
Brady and Christie .celebrated their 41st wedding anniversary this year. They have four children, all married, in Texas, Oklahoma and Pennsylvania. Two work as artists — Hannah in the fashion industry and Wheeler in documentary films. Their third, Cameron, is a preacher-man, and Abbie, their oldest daughter, is mom to three of their four grandchildren — Caleb, Lyla and Joe Buck and Braden (Hannah's son).  Abbie also serves Director of Fine Arts at a Christian school in Edmond, OK. Believers in Christ, Brady and Christie enjoy church and charitable activities, and remain committed to being present in their families' lives as much as possible. As Christie says, they believe "The Best is Yet to Come."
Curriculum Vitae
LEGAL EXPERIENCE
COURTS WHERE ADMITTED TO PRACTICE
EDUCATIONAL BACKGROUND
PERFESSIONAL ASSOCIATIONS
LEGAL EXPERIENCE
Intern, Fort Worth Regional Office, U.S. Securities & Exchange Commission (1972)
Prosecutor, Dallas County District Attorney's Office (Henry Wade) (1974-9)
Board Certified – Civil Trial Law, Texas Board of Legal Specialization (1994)
Rated "AV – Preeminent" by Martindale Hubble Law Directory
Licensed Mediator; extensive mediation experience (over 475 mediations); appointed by numerous courts
COURTS WHERE ADMITTED TO PRACTICE
United States Supreme Court
United States Courts of Appeals – 2nd, 4th, 5th, 6th, and 10th Circuits
Northern, Southern, Eastern and Western Districts of Texas
All State Courts in Texas
EDUCATIONAL BACKGROUND
Colorado College (1966-1970) B.S.
Southern Methodist University (1970-1973) J.D.
PERFESSIONAL ASSOCIATIONS
Master, Judge Paul Brown American Inn of Court
Dallas County Bar Association
Eastern and Northern Districts of Texas Bar Associations
Federal Bar Association
Dallas Bar Association

Co-Chair, Judiciary Committee ('98)
Chair, Sub-Committee on A/V and Electronics ('97)
Co-Chair, Courthouse Committee ('96)

State Bar of Texas
American Bar Association
Association of Attorney Mediators (N. Texas Chapter)
State Bar of Texas
Career Milestones
300 + Jury Trials
450 + Mediations
Successful Appellant, U.S. Supreme Court – first federal trial, first appeal (1988)
Chief Felony Prosecutor under Henry Wade (1977-79)
Law Intern, U.S. Securities & Exch. Comm'n., (Ft. Worth) (1972)
Miscellaneous
Boston Marathon '91; 5 other marathons
Marathon PR, 3:18 [Dallas White Rock, '90].
Other equally foolish endurance sports
Active in Civic, Church, and Charitable Organizations
REPORTED CASES
Criminal:
Garrett v. U.S., 533 U.S. 917, 121 S.Ct. 2523 (2001)
U.S. v. Garrett, 250 F.3d 745 (5th Cir. [Tex] (2001)
U.S. v. Garrett, 238 F.3d 293 (5th Cir. [Tex] (2000)
Turner v. U.S., 1 F.3d 901 (10th Cir. [Kan.] 1995);
U.S. v. Turner, 44 F.3d 900, 10th Cir. [Kan.] (1995)
U.S. v. Turner, 1994 WL 409632, D.Kan. (1994)
Smith v. State, 772 S.W.2d 946 (Tex.App. – Dallas 1989);
Taylor v. State, 599 S.W.2d 831 (Tex.Cr.App. 1980);
Todd v. State, 598 S.W.2d 286; (Tex.Civ. App. 1980);
Wrenn v. State, 597 S.W.2d 369 (Tex.Cr.App. 1980);
Rogers v. State, 550 S.W.2d 78 (Tex.Cr.App., 1977);
Williams v. State, 547 S.W.2d 18 (Tex.Cr.App. 1977);
Powell v. State, 541 S.W.2d 432 (Tex.Cr.App. 1976).
Civil:
Citigroup Global Markets v. Bacon, 562 F.3d 349 (5th Cir. 2009).Download appeal
Vetco Sales, Inc. v. Vinar, et al., 98 Fed.Appx. 264, 2004 WL 179379, 5th Cir. (2004)
Jenevein v. Friedman, 114 S.W.3d 743 (Tex.App. Dallas 2003)
Viazis v. American Ass'n of Orthodontists, 314 F.3d 758, 2002-2 Trade Cases P73,907, 60 Fed.R.Evid.Serv. 428, 5th Cir. [Tex] (2002)
Viazis v. American Ass'n of Orthodontists, 182 F.Supp.2d 552, 2001-2 Trade Cases P73,455, E.D. Tex. (2001)
Edison v. Beta Financial Corp., 994 S.W.2d 827, Tex.App.-Eastland (1999)
Boggan v. Data Systems Network Corp., 969 F.2d 149 (5th Cir. [E.D.Tex.] 1992);
Pinter v. Dahl, 486 U.S. 622, 108 S.Ct. 2063, (U.S. [Tex.] 1988);
Pinter v. Dahl, 787 F.2d 985 (5th Cir. [Tex.] 1986);
Pinter v. Dahl, 794 F.2d 1016 (5th Cir. [Tex.] 1986);
Harris Data Communications, Inc. V. Dellana, 680 S.W.2d 641 (Tex.Civ.App. 1984).